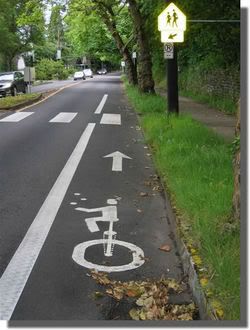 OK, so living life one breasted isn't any woman's first choice, but it can be the best choice. I am not just talking from experience, I am living from it as well.
As I sit here, my computer in front of me, I can look around my house and see evidence of cancers hand. I can see the pain, the fear, the hope and yes even the life that breast cancer has given to me.
Was I happy that breast cancer decided to mark me as one of her victims? No, absolutely not. But, I was the one who decided not to be her victim as both time and my life went on in the aftermath.
Breast Cancer. What comes to mind when you here those two words? Loss,pain, breasts, mastectomy, chemo, radiation, fear, worry, possible death, hair loss, change, breast reconstruction, implants? Well all those come to my mind and a few more at least. Breast cancer is about change for the most part. She can cause all kinds of turmoil, yet she can also bring your life together, give you purpose, understanding and a new lease on life. I know because I have lived in her wake.
Living life in spite of the fear can be well, scary. How can it not be? How do women marked by this beast not worry? How do we get up every morning and be the moms, the wives and the women we need to be? Well, we have hope, yes, but we also have strength and determination. Still even with those attributes, it takes effort and a desire to actually live life in full view of the beast's den.
But isn't life is about choices? We all make them everyday. In fact we can't get through the day without coming to at least one cross road. So living life in breast cancer's shadow is basically the same. But the difference is this: Do you make the decision to live with one breast or two? Seriously do you get a license for a unicycle or a two wheeler? Choices can be easy or they can keep you at a stand still for a while. For some this may sound like a no brainer, but honestly it isn't as simple as that. Deciding to go through breast reconstruction is big. Deciding not to go through it is big. But deciding to go through the process and then undo the process must seem crazy. For me it is all tied together.
Women who endure breast cancer need to be well informed, educated on all the pros and cons. You would think that living with today's advancements information would not just be readily available but also eagerly given. Sadly, that isn't always the case and so "crazy" comes into the picture. I don't begrudge anyone for stepping back and stamping crazy all over my forehead. It is natural I guess. The thing is this, life just isn't that simple. We all go through valleys in life, we all deal with hurt, confusion, uncertainty. We all deal until we have to choose. Then it happens! It's like a big bang over our heads, a bright light out of nowhere. Suddenly we have our moment of clarity in spite of all the crazy chaos surrounding us.
That is what has finally happened to me. The light has finally appeared at the end of the tunnel. The truth that was not so readily supplied to me in the beginning has turned up the volume in my life. I feel informed, ready to make a decision and live with it. The lingering affects of my cancer have become clear, it is time to move out of the fast lane and into the slower lane of life. No, I will not say that I am not scared because the truth is that I am terrified. I am getting ready to make the biggest decision yet. I am about to basically put myself back through another mastectomy. I am choosing, willingly to live through breast cancer's physical and emotional rape of my body, mind and spirit a second time. Yes, I am about to open up old scars and endure the emotional pain of losing a breast again. So you may be right.... Crazy would describe my condition!
So OK I am completely off my rocker, nuts, absolutely crazy?There is no doubt about that I am certain. Yet I am oddly comforted by the fact that I have already lived through this process once... I know I can live through it again! So tomorrow I will make the call, set the appointment and start the ball or should I say breast rolling. I am not thrilled, but I know this is the right things to do. This is absolutely not an easy decision, but it is what I have to do. How many times in life do we have to turn away from our vanity, from what we want life to be and do what's right? All the time if we are going to be really truthful here. We do it for our children, our husbands, our wives. We turn our own desires away to give way for those that we love on a daily basis. Everyday we have to set our own wants, desires and feeling aside to do what is at times painfully the right thing to do. This is no different.
Living life one breast at a time is not a new concept, it is a reality for so many women. If they can do it, then so can I! Life as a one boob wonder, sure why not?
Christina